NEW - ZEM Hearing Protection
BKK Enterprises is proud to be the Canadian Distributor for the ZEM hearing protection utilizing a patented new technology for sound cancellation. The ZEM is used in any potentially damaging noise environment including manufacturing, power and utility, construction, landscape, military, airlines, woodworking, sport shooting, music and entertainment.
Click photos below to view larger images. Click here to Start Shopping
How It Works
The ZEM works by directing sound away from the ears. Sonically sealed chambers act as an extension of the ear canal. They form a vacuum that pulls harmful sounds away from the sensitive ear anatomy.


Sound is uniformly reduced. Because sound (including the varying frequencies in the spoken word) is evenly reduced, the ability to understand speech in a noisy environment is fully maximized. And at the highest, most harmful frequencies, even greater noise reduction is achieved.


Safety is increased. Because the ZEM produces uniformity, conversation and other vital hearing functions are made easier. The ZEM reduces low–frequency noise, the noise that masks speech and other important sounds or alerts. In other words, you hear everything you need to, while your ears get better protection than they've ever had before.

ZEM's Superiority In Sound Attenuation
The ZEM's ability to reduce noise at low frequencies is what distinguishes this solution from traditional ear protection. Because noise reduction is even and highly effective, speech communication is neither masked nor distorted. The patented, physics–based ZEM sound filter creates uniform sound reduction at low–frequency ranges, as well as more damaging higher ranges.
Safe. Sound. Naturally.
The ZEM is based on remarkable technology filters out harmful, high-decibel noises.
The ZEM also:
Achieves uniform sound reduction
Filters out the most damaging sound frequencies
Allows easy conversation without the "echo" effect found in other hearing protection devices
Other advantages include:
High speech intelligibility
Increased safety
Outstanding comfort and easy adjustment
No occlusion or echo effect
Designed for improved inner ear hygiene
Light weight at less than 2 ounces
Compact for easy storage
Easy to use
No batteries required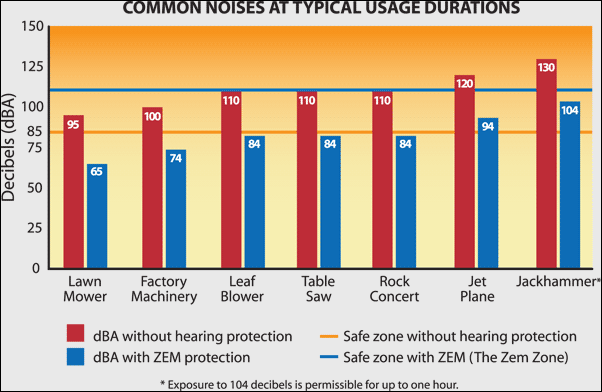 Purchase Information
Please online with our convenient shopping cart. For larger orders or more product information contact Ken Kozmenski by email or phone ( 1-866-937-6020 ). Click on the images below for more product information.
Testimonials
"In my 20 years practicing dentistry I have never found hearing protection like this. I can hear my patient and assistant speak and be comfortable wearing the ZEM product all day."
Dr. Anthony L. Ricci, DDS
family dentistry, Rochester, NY
"Amazing! I took the ZEM to an audio show not knowing what to expect. My customers were shocked at the true reproduction of sound across the entire audio spectrum. The ZEM is in my '05 - '06 dealer catalogues today."
Mike Laiacona, President
Whirlwind
worldwide manufacturer of digital audio technology
"The ZEM is the best voice recognition hearing protection product that we've tested."
Steve DiLoreto, Plant Manager
Ball Corporation
leading manufacturer of aluminum cans
"Economy! My company runs on a budget. Ear plugs were costing way too much. All 100 of my employees use ZEMs and my supervisors love the voice recognition capability."
Seng Park, Executive Vice President
Park Enterprises
international assembly, manufacturing, packaging & design services company
"I used to target shoot with $200 electronic muffs. Not anymore. My ZEMs are lightweight, comfortable and I can converse on the range."
Phil Piccarelli, Target shooter
Penfield, NY